DUCATI PANIGALE V4R SUPERLEGGERA SUPERBIKE / Generation 6
February 5th 2020 - For Ducati, the Superleggera V4 - a limited edition of just 500 individually numbered bikes - represents the pinnacle of engineering, innovation, attention to detail and customer care. The Superleggera V4 is extreme, designed and developed to achieve maximum on-track performance and ensure all the reliability and rider-friendliness of a road-legal sport bike.

Ducati calls this new bike a V4 Superleggera, but we are going to call it a V4R Superleggera becuase it uses the 2019 V4R model's smaller World Superbike homologated Stradale 998cc engine which revs higher and is higher tuned to make more power than the base Panigale Stradale 1103cc V4/4V4S engine, and it has the R model's mechanical Ohlins Suspension. And because this is a 2020 year model it can and should be be designated as the V4R20 Superleggera to identify it correctly by year. There will be a limited prododuction run of 500 bikes with the Retail Price a wallet wrenching USD $100,000. After the inital bikes sell at full price to those who can afford it, we'd expect to see some dealer discounting later this year and into 2021.

Many of the components are in carbon fibre. These include the streamlined fairing, which offers an aerodynamic efficiency that matches and exceeds that of current MotoGP bikes. Desmosedici GP16-derived 'biplane' wings guarantee a downforce of 50 kg at 270 kph, 20 kg more than that generated by the wings on the Panigale V4 MY20 and V4 R.

The carbon fibre fairings also sport an eye-catching Desmosedici GP19-inspired livery that juxtaposes the red of the GP19 with a naked carbon that emphasises shapes, materials and technical details.

Beneath the carbon skin lies the Desmosedici Stradale R engine, lighter and more powerful than ever. The 998 cm3 90° V4 that powers the Superleggera V4 weighs, in fact, 2.8 kg less than the 1,103 cm3 V4. Thanks to a type-approved Akrapovič exhaust it puts out, in its road-legal configuration, no less than 224 hp (EU homologation figures). That figure rises to 234 hp when the non-homologated titanium Akrapovič exhaust, included in the Racing Kit supplied with the bike, is fitted.

Available only on the Superleggera V4R, a special engine calibration for the Akrapovič racing exhaust gives riders access to a "RaceGP" display. Intended exclusively for track use, the latter - designed with valuable input from Andrea Dovizioso - is a direct offshoot of the instrument panel on the Desmosedici GP20.


Thanks to extensive use of carbon fibre, titanium and machined-from-solid aluminium components, the Superleggera V4 has a dry weight of just 159 kg (16 kg less than the Panigale V4), resulting in a power/weight ratio of 1.41 hp/kg: a record-breaking figure for a road-legal sport bike. Mounting the Racing kit puts the bike in its track configuration, boosting power to 234 hp, dropping the weight to 152.2 kg and raising the power/weight ratio to 1.54 hp/kg.

High aerodynamic efficiency, a specifically tuned suspension set-up and a record-breaking power/weight ratio ensure outstanding stability in acceleration and unmatched cornering agility, giving riders confident control and letting them perform to the highest level.

Other equipment items unique to the Superleggera V4 include a lightened Öhlins suspension system with pressurised fork and a Brembo braking system with Stylema® R calipers. In addition, a latest-generation electronics package includes EVO 2 strategies for the DTC and DQS up/down.

Operational parameters for each control are associated by default with three reprogrammed Riding Modes (Race A, Race B and Sport). There are also - for the very first time - five additional Riding Modes that can be personalised with the rider's preferred settings. Riders can monitor lap times via the upgraded Lap Timer which can record finish line coordinates and intermediate times for five different circuits.
Meticulous attention to detail is also evident in the billet aluminium radiator cap and the dedicated ignition key which has an aluminium insert showing the bike number.

The exclusiveness of the materials and technical solutions is reflected in the limited number of bikes: just 500, all individually numbered and provided with a certificate of authenticity. The bike ID number (XXX/500), which coincides with the VIN, is shown on frame, fork yoke and ignition key.

Equally exclusive is the attention Ducati has reserved for each of its 500 Superleggera V4 customers: during the dedicated SBK Experience event, they'll have the opportunity to test ride the Panigale V4 R that competes in the SBK World Championship. Tip-top exclusivity will, instead, be reserved for the 30 customers who purchase the MotoGP Experience. They'll get the chance to live the dream of every Ducatista racing enthusiast: to experience the thrill of being a MotoGP rider by taking to the track on the Desmosedici GP20 - the bike ridden by Dovizioso and Petrucci - with the close support of Ducati Corse technicians.

Superleggera V4 inimitability continues with a dedicated premium leather suite, with incorporated airbag, and a carbon fibre helmet, both emblazoned with the bike's distinctive graphics. Produced by Dainese, the leathers combine lightness and strength with the safety of the D-air system. Likewise, the meticulously crafted Arai helmet - which features aeronautical-grade carbon fibre - offers unsurpassed performance. Both apparel items can be personalised with logos and are available in a range of colours.
The V4R Superleggera gets these beautiful BST CarbonFibre Wheels, same as what came on the previosu VR2 Superleggear.
Weight savings is about 2lbs per wheel compared to the Forged Marchessini aluminum race wheels on th V4R.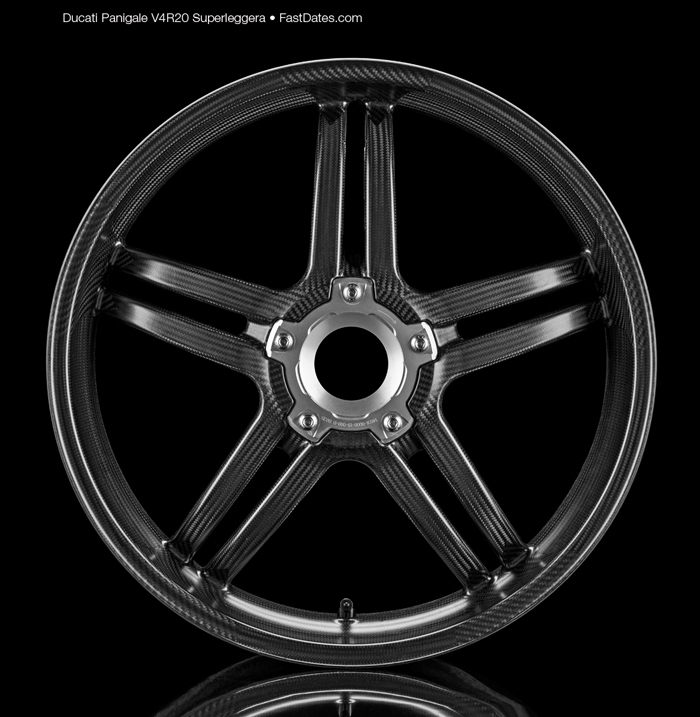 2020 V4R Superleggera Specification Sheet PDF

Ducati Panigale V2 versus V4 - Are 2 More Cylinders Really Better?
                                                                             
Ducati Stradale V4 1100cc Superbike    

Ducati Stradale V4R19 998cc Superbike   •    2019 Panigale V4 and V4R Specification Sheet PDF 

Ducati Stradale V4RS19 Corse WSBK 998cc Superbike

Return to: Ducati Index • New Bike Index • Pit Lane News • Calendar Bike Garage

 
Fairing
• Carbon fibre fairing
• Aero Package with Desmosedici GP16-derived 'biplane' aerofoils
• Dedicated colour scheme inspired by the Desmosedici GP19

Engine
• Desmosedici Stradale 998cc R engine, 224 hp at 15,250 rpm and 11.8 kgm at 11,750 rpm (EU homologation figures)
• EURO 4 compliant
• Titanium exhaust manifolds,
• Type-approved Akrapovič titanium silencer
• Lighter STM EVO-SBK 8-disc slipper dry clutch
• Titanium/aluminium screws and bolts
• Oil pump without return stage from heads - lighter
• Titanium camshafts with drilled lightening holes
• Gear shift drum, perforated to reduce weight
• ORAW2 Regina chain - lighter
• Metal platelet with signature of technician who completed the Desmodromic system timing

Chassis
• Carbon fibre Front Frame
• Carbon fibre single-sided swingarm
• Carbon fibre wheels with aluminium hubs
• Pirelli Diablo Supercorsa SP tyres
• Carbon fibre rear subframe
• Carbon fibre fairing with Desmosedici GP16-derived biplane aerofoils
• Lighter, pressurised Öhlins NPX25/30 upside down 43 mm fork
• Öhlins TTX36 shock absorber with titanium spring and GP valves
• Stylema® R front brake calipers
• Brembo MCS 19.21 radial front pump with remote adjuster
• Billet aluminium suspension tie rod
• Ergal crown
• CNC-machined brake and clutch levers
• Seat with carbon fibre base
• Billet aluminium footrest plates, rear brake lever and clutch lever
• Titanium rear wheel nut
• Titanium/aluminium screws and bolts
• Billet aluminium radiator cap
• Machined-from-solid aluminium fork yoke with stamped number (XXX/500)
• Numbered ignition key (XXX/500)

Electronics
• Five personalised Riding Modes
• Full-TFT 5" colour screen with three displays: Track, Road and RaceGP (the latter is enabled by fitting the Akrapovič racing exhaust)
• Latest-generation electronics package with 6-axis inertial platform: ABS Cornering EVO; Ducati Traction Control (DTC) EVO 2; Ducati Slide Control (DSC); Ducati Wheelie Control (DWC) EVO; Ducati Power Launch (DPL); Ducati Quick Shift up/down (DQS) EVO 2; Engine Brake Control (EBC) EVO
• On-board electronics: Ducati Lap Timer GPS (DLT GPS) EVO 2; Pit Limiter (PIT); Ducati Data Analyser + GPS (DDA+ GPS); Ducati Multimedia System (DMS) ready
• Lithium-ion battery

Main as-standard equipment
• Racing kit: complete Akrapovič titanium racing exhaust; open carbon fibre clutch cover; carbon fibre swingarm cover with titanium slider; headlight/tail light replacement kit; plate holder removal kit; kickstand removal kit; billet aluminium mirror replacement plugs; Ducati Data Analyser+ GPS (DDA+ GPS); racing filler cap, brake lever guard, bike cover.
• Front and rear paddock stand
• Battery charge maintainer
---

The carbon fibre frame and swingarm were 100% internally designed by Ducati, making full use of Ducati Corse experience in terms of calculation procedures, material selection and test methods.

During development, components underwent stringent final tests to ensure integrity under all possible conditions and each item underwent a quality control process similar to that used in MotoGP.

Carbon fibre component structural quality is ensured by three different NDI (Non Destructive Inspection) methods, the same as those used in the aerospace industry:

• Active Transient Thermography: allows inspection of the surface layers of a component, indispensable for accurate analysis of complex surfaces and edges.
• Ultrasonic Phased Array: based on the Pulse Echo technique, allows for two-dimensional display. Better coverage and greater sensitivity allow for more detailed results compared to conventional ultrasound test procedures.
• Computed Axial Tomography: consists of 3D X-ray inspection that covers 100% of the tested component volume.

These checks are made on every single manufactured part to verify their constructive quality.
The Superleggera Front Frame, made of high-strength carbon fibre and a resin system resistant to high temperatures, also has 7075 aluminium alloy inserts co-laminated into the composite structure. In comparison with the already-light aluminium alloy Front Frame of the Panigale V4 MY20 and V4 R, this construction technology has yielded a weight saving of 1.2 kg. What's more, the Superleggera V4 mounts an all-new carbon fibre rear subframe that shaves off another 1.2 kg.

Made with the same technology as the frame, the single-sided swingarm weighs 0.9 kg less than its aluminium counterpart on the Panigale V4, despite its increased length.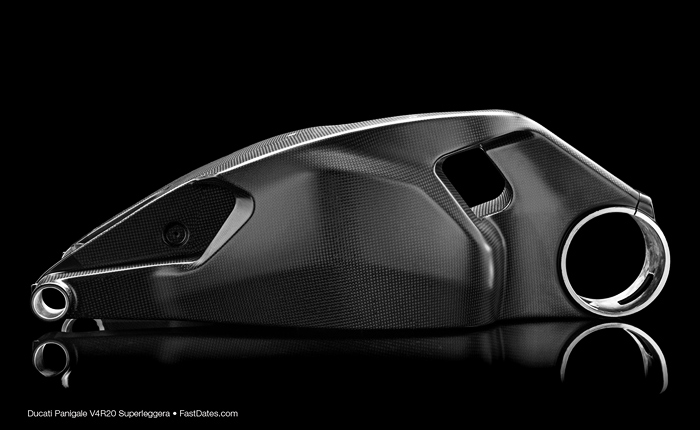 The lengthened swingarm also increases front-end load. Combined with the downforce generated by the new aerofoils, this lets riders open up the throttle with confidence and exploit the bike's full acceleration potential without worrying about wheelies.
The cutting-edge 5-spoke wheels of the Superleggera are made of high-strength carbon fibre; the aluminium hubs are screwed into the composite structure while the rear wheel is secured with a titanium nut. Use of these two materials gives a weight saving of 3.4 kg with respect to the aluminium alloy wheels on the Panigale V4, significantly reducing rolling resistance while enhancing direction-changing agility and lightness. The wheels mount Pirelli Diablo Supercorsa SP tyres.

Racing suspension and brakes
The refined Superleggera V4 suspension chassis set-up is completed by race-grade suspension and braking components. For example, the Superleggera V4 mounts an Öhlins suspension system that, overall, weighs 0.6 kg less than the one on the Panigale V4. Up front there's an Öhlins NPX25/30 pressurised upside-down 43 mm fork with machined-from-solid aluminium fork bottoms. At the rear, instead,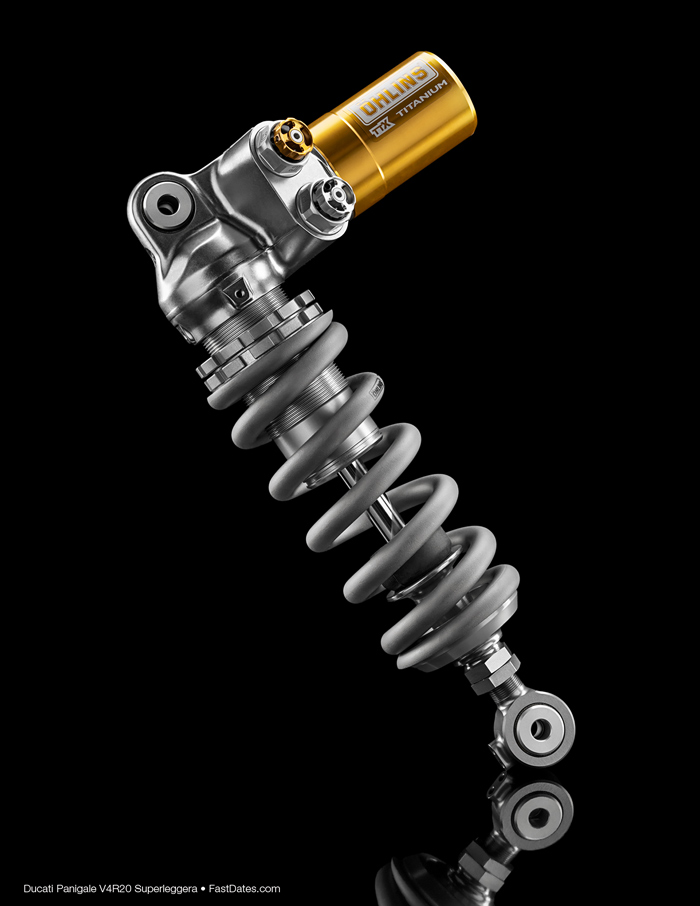 The mechanically adjustable Ohlins TTX rear shock which is also found on the Panigale V4R, comes on the Superlegera with a Titanium spring that is 2 pounds lighter than the normal Ohlins Steel spring. Unfortunateley, Ohlins and Ducati only sourced a production run of 500 Tinanium Springs for the Superleggera, and these very desirabe Ti Springs are not avaliable separatley from Ducati Parts or Ohlins. Titanium shock springs are one of the most cost effective weight reducing parts for a superbike, but they have become much more difficult to source in recent years because spring manufactuters want a large production run to justify making them. It is fustrating that Ohlins / Ducati didn't order extra springs to sell through their parts divisions.
A new graphics design, dual aero wings, an open STM slipper clutch and BST carbon fibre wheels give the new V4R Superleggera a really agressive look. The Superleggera's biggest weight savings comes with the aluminum replacment carbon fibre front monocoque (lbs), and rear subframe (10 lbs). The longer carbon fibre swingsrm is only 1 lb lighter,

The cutting-edge aerodynamics of the Superleggera V4 is an upgrade of the Aero Package mounted on the Panigale V4 MY20 and V4 R. Thanks to biplane-configured airfoils that work in concert with a fairing that shields the rider's body at high speeds, the Superleggera V4 Aero Package is actually more effective than the one currently employed on MotoGP bikes.
As in MotoGP, aerodynamic development involved a series of preliminary CFD (Computational Fluid Dynamics) studies, followed by optimisation on a full-scale wind tunnel model.

The Superleggera V4 fairing is made entirely of carbon fibre, as are the biplane airfoils that take their cue from the Desmosedici GP16 - the Desmosedici with the most aerodynamically efficient winged configuration ever!

The upper aerofoil is of the dual taper type, featuring a longitudinally arranged strake and an endplate with two further downforce elements. On the upper element the leading edge has a twist in the angle of attack. The lower aerofoil instead has a two-part "main" and "flap" configuration and is equipped with a fissured endplate to increase extension virtually and, therefore, reduce drag.

This design ensures 50 kg of downforce at 270 kph, 20 kg more than that generated by the airfoils on the Panigale V4 MY20 and V4 R.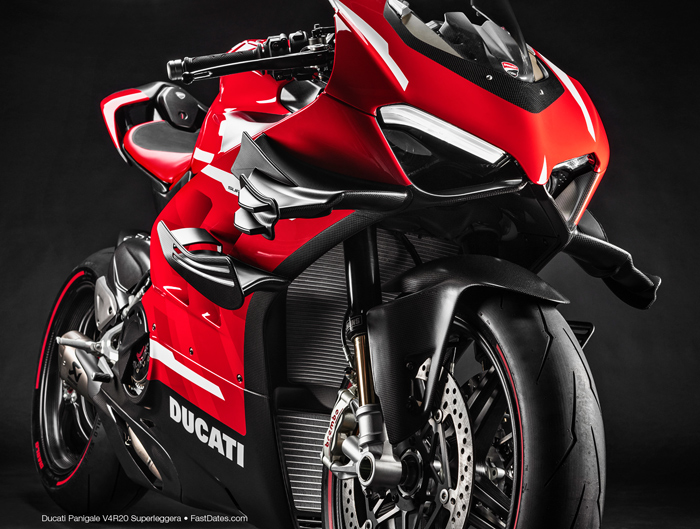 Greater downforce means less front-end floating and reduces the tendency to wheelie at high speeds. It also means greater stability during braking, turn-in and cornering and, of course, better bike stability at high speeds.

Wheelie reduction - palpable with this aerodynamic configuration - means riders can gain valuable metres during acceleration. During development it was demonstrated that, when exiting a slow 50 kph corner, the same acceleration time (7 seconds) took the Panigale V4 MY20 four and a half metres further than the same bike without the Aero Package (Panigale V4 MY19). Fitting the new Aero Package increases that gap to six metres. With the Superleggera V4, the improved engine performance and lower weight raises that advantage to nine metres and makes the bike some 6 kph faster out of the corner.

The carbon fibre fairings have a race-like, eye-catching Desmosedici GP19-inspired livery yet are free from any aesthetic elements that might affect performance. Striking graphics juxtapose the red of the GP19 with a naked carbon that emphasises shape, materials and technical details (such as the aerofoils, deliberately left unpainted to highlight the quality of the material they're made of).
Above: Ducati Corse World Superbike rider Scott Redding testing on the 2020 factory V4RS20 that uses the same smaller 2 aero wings as homologated on the 2019 V4R Superbike. While reigning 5-time World SBK Champions Team Kawasaki have introduced their new 2020 World Superbike ZX10R without any aero downforce wings at all. You can see here that the Corse V4RS bikes now have a Pierbon modified 2-inch longer (and 2 pounds heavier) production aluminum swingarm, longer like the carbon fibre swingarm which comes on the Superleggera. However carbon fibre swingsrms are not legal in the FIM Superbike Class.


The Desmosedici Stradale R that powers the Superleggera V4 delivers, in the bike's road-legal configuration, 224 hp at 15,250 rpm and a torque of 11.8 kgm at 11,750 rpm (EU homologation figures).

At the heart of the Superleggera V4 lies a 90° 998 cm3 V4 engine, lightened thanks to the use of titanium and aluminium bolts, a new, lighter 8-disc clutch, camshafts machined to reduce weight, a lighter gearshift drum, an oil pump without a return stage from the heads and titanium manifolds that work in concert with the road-legal Akrapovič silencer. These modifications have yielded a 2.8 kg weight reduction compared to the 1,103 cm3 V4 engine and produced a gain of 3 hp thanks to the high efficiency of the Akrapovič exhaust.

For those eager to ride the Superleggera V4 in its natural habitat - the racetrack - the bike comes with a complete Akrapovič titanium exhaust (not type approved for road use), included in the Racing Kit; this makes the bike 6 kg lighter than the Panigale V4 and boosts power to 234 hp at 15,500 rpm with a maximum torque of 12 kgm at 11,750 rpm.

On the Superleggera V4 Desmosedici Stradale R engine the Desmodromic system timing procedure is performed manually by an expert; once all required tests have been completed, he certifies the positive outcome by signing the metallic plate that embellishes the rear cylinder bank.

The engine is a 90° 998 cm3 V4: featuring cylinders banked 42° back from the horizontal, it has been designed to act as a fully stressed member of the vehicle. Cylinder bore is 81 mm, with the pistons performing a 48.4 mm stroke thanks to a forged steel counter-rotating crankshaft* driven by four titanium con rods with a centre-to-centre of 104.3 mm.

The crankshaft is mounted on brass bushings and combines a 70° crank pin offset with a 90-degree V engine layout. This solution generates what's called a Twin Pulse firing order, because it's as if the engine were reproducing the firing sequence of a twin-cylinder. The distinctiveness lies in the fact that the two left-hand cylinders fire closely together, as do the two right-hand ones. On the timing chart, the ignition points are, then, at 0°, 90°, 290° and 380°. This particular firing order makes the V4 sound just like the MotoGP Desmosedici.

Pistons are made of moulded aluminium, have a single compression ring plus an oil ring and take advantage of "box in box" technology: this contains both skirt height and below-chamber thickness, helping to reduce attrition and inertial loads while maintaining the necessary strength and stiffness.

The four Desmodromic system camshafts operate the valves (Ø 34 mm titanium intake valves, Ø 27.5 mm steel exhaust valves). The valves feature titanium half-cones, a solution usually adopted only on racing bikes.

The Desmosedici Stradale R engine gulps in air through oval throttle bodies and aerodynamic throttle openings (Ø 56 mm equivalent) connected to variable-height air intake horns. This solution optimises cylinder intake across the rev range, giving major advantages in terms of power delivery and handling. The engine breathes through a high-permeability Sprintfilter P08 air filter.

On the Superleggera V4 the Desmosedici Stradale R is equipped with an STM EVO-SBK dry clutch made of machined-from-solid aluminium with a 48-tooth clutch basket and plate set; there are 8 take-up plates and 8 drive plates with a diameter of 138 mm. The dry clutch gives greatly improved 'feel' during braking and through the corners. It also allows personalisation of the degree of 'mechanical' engine braking and, with the as-standard open carbon fibre clutch cover, is characterised by that iconic mechanical rumble which Ducati fans find irresistible.

Rear wheel drive is performed by a Regina ORAW2 chain - the same as the one used in MotoGP - which turns an Ergal crown; compared to those on the Panigale V4, these two components reduce weight by 1.4 kg.

*However, in racing, there's no such thing as a free lunch: this layout demands, of course, the addition of the so-called 'jackshaft' to transfer crankshaft drive through the gearbox to the rear wheel so it turns the right way. The jackshaft adds an extra transmission element to the crankshaft-wheel connection system. This needs to be taken into consideration when establishing crankshaft power if the latter is obtained from measurements made at the wheel. During both homologation and measurement on acceleration test benches it is, therefore, necessary to consider an efficiency or, in any case, an additional coefficient that is, by law, fixed at 0.98.



Return to: Ducati Index • New Bike Index • Pit Lane News • Calendar Bike Garage
The new 2020 Panigale V4 Superleggera is essentially a 2019 Panigale V4R with the addition of 2 very agressive pairs of aera wings and enough Titanium engine and Carbon Fibre chassis parts to reduce the Stradale V4 bike's weight by some 30 pounds.
With the $100,000 Superleggera ratalinf or some $53,000 more than a V4R with Akrapocic Ti full race exhaust installed, that's about $1,766 cost per pound. Just for comparison, the previous Generation 5 Superquado V2 Superbike was / is 20 pounds lighter.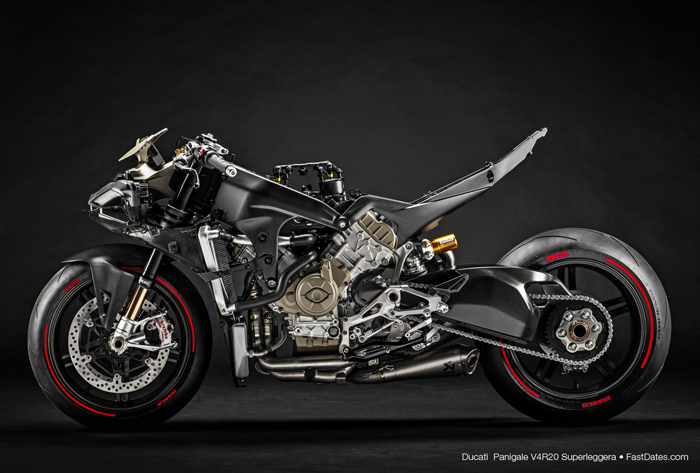 Below: The Superleggera's naked view from the top showst he front monocoque and rear subframe made from carbon fibre.
The 4-cylinder Stradale engine is considerably wider than the V-2 Superquadro engine it replaces, requiring the frame componts above the engine to be about 4 inches wider as well, giving the 6th Generation Panigale a bulkier feel. The engine is about 20 pounds heavier as well, but the lightwight Superleggera compents take 30 pounds off the Gen 6 bike, making it feel more nible and like the Gen 5 bikes.
                               
Below: the Superleggera features Titanium bolts and nuts throughout, like here to bolt-down the cylinders tot he engine case.
2020 V4R Superleggera Specification Sheet PDF

Ducati Panigale V2 versus V4 - Are 2 More Cylinders Really Better?
                                                                             
Ducati Stradale V4 1100cc Superbike    

Ducati Stradale V4R19 998cc Superbike   •    2019 Panigale V4 and V4R Specification Sheet PDF 

Ducati Stradale V4RS19 Corse WSBK 998cc Superbike
Return to: Ducati Index • New Bike Index • Pit Lane News • Calendar Bike Garage