Joe Ippoliti, C.O.O. of NCR Factory (left) , and Michel Poggopolini, Business Manager at Poggopolin Srl (right). What you are looking at in front of them is an indestructable Titanium cast and machined Ducati Superbike engine case which Poggopolini designd and built for the Ducati 988 Superbike. It was needed at the time because as the 2nd generation Ducati Superbike's engine evolved from a less powerful 120hp 916cc, to 955cc, then to 996 / 998cc big bore cacacity engine with 190hp! The factory Ducati Corse race engines needed to have their cases replaced every 2 races or they'd crack apart from the increased power and revs. This NCR Titanium case was never used however, as it wasn't homologated in time, and the soon to be released 996/998R Testastretta engined Superbikes did get the redesigned deep sump engine with much stronger and lighter cast Aluminum production cases.
A visit to NCR / Poggopolini
Story and Photos By Jim Gianatsis - Click on any Picture to Enlarge
If you are a Ducati racing enthusiast, you know the name NCR. Though you may not know its history and who they really are. Back in 1967 Ducati factory mechanics Giorgio Nepoti, Rino Caracchi and Rinaldo Rizzi set up their own specialist race shop (NCR) in Bologna, just out the back door from the factory in Borgo Panigale. Rizzi soon left the company and it became known as NC Racing for a while. Soon the small performace race shop was assisting the Ducati factory with the preparation of its race bikes in 1972, and in 1973 NCR entered its own 750 Supersport Bike at the Imola 200. Eventually NCR became the unofficial Ducati factory racing team in 1975 when factory management withdrew from racing, but designer Fabio Taglioni was determined to persevere with a racing program. Teaming up with race team enginners Franco Farne, Mario Recchia and Piero Cavazzi, along with Nepoti and Caracchi from NCR. this was Scuderia NCR or essentially Ducati Racing for the next 15 years, until the Ducati factory brought racing actovities back in house to Ducati Corse.
During the mid 1970s through the 1990s NCR from was the go-to place for Ducati race bikes and performance parts. One of their most noteable bikes was the 1977-78 NCR 900 bevel drive desmo Ducati which Mike Hailwood rode to the Isle of Man TT wins those year. The great American Ducati tuner Reno Leoni used NCR race parts including special crankshafts in his winning 1980's bikes raced by Jimmy Adamo. They also assisted Eraldo Ferracci and Doug Polen in 1991 in their quest to win the World Superbike Championship. Nepoti retired in 1995, but Rino Caracchi with his son Steffano continued to field an NCR World Superbike team up until 2001. At that point they decided to retire and NCR was purchased by their machine shop parts supplier Poggipolini.
Duuring those years NCR needed a source for the manufacturing of their racing parts. Calisto Poggipolini open his first machine shop in Bologna in 1950, and eventually began making parts for NCR. In the 70's the company began to work with "new" lightweight metals (Titanium and Aluminium). In later years when Poggipolini's sons Stefano and Marco began working with their father the company really started to evolve. The sons had a passion for Motocoss racing and from this they evolved and understood the necessity to replace heavy steel parts with lighter weight materials. The company saw that there was a strong need for "new" alloys especially in motor racing such as in the Superbike and Formula 1.
The vast majority of Poggopolini's prestigious and demanding customers come from Formula 1 (including Ferrari), Motorcycle Gran Prix and Superbike, as well as the Nautical and Aerospace sectors we provide the highest quality products. Today the company employees more than 50 people in two production facilities which total more than 5000 sq meters.
NCR Adjustable Suspension for the Ducati 848/1098/1198 Superbike. This is a must have for the skilled rider, racer. As a cost cutting measure Ducati discontinue the adjustable steering head on their 4th generation Superbikes (with the exception of the 1098/1198R with does have an adjsutable steering head cage to homologatr it for WSBK). The fixed 28.5° steering angle on thee base model Superbikes bikes (an even slower 29.0° for theStreetfighter) is too slow for quck handling and should be pulled back to 27.5° - 28.0° . This trick NCR Tripple Clamp set will let you do that in a wide range of setting using offset steering stem inserts in 1mm increment to + or - 4mm. Flipping the insets will give a revers effect. You can see how the sterm inserts slip-in, in the lower picture, and here the Top Clamp is designed to take higher 1-piece handlebars like on the Strteetfighter. Also shown above is the NCR Adjustable Rear Suspension, offering quick ride height / weight transfer adjusgtment
Above: Joe Ippoliti welcomes us to the workshop at NCR where the new bikes are assembled. On the table is a display of many of the special NCR parts they sell.
| | |
| --- | --- |
| | Under Poggipoli ownership spearheaded by Michel, NCR began making sportbike parts and building ground up racebikes using Ducati motors in Titanium frames. In 1993 the new NCR Milona 1000 Ducati 2-valve aircoled racebike won the prestegious Battle of the Twins race at Daytona. In 1993-94 they supported the privateer PSG-1 World Superbike team with Franki Chili on the old 2nd genertion Ducati 998 Supebike, highlighted in 2004 with Frankie beating the factory Ducati Corse team on their trick new 3rd generation 999 Superbikes to win at Monza that year. |
Above: Frankie's Chili's NCR Ducati 998R Monza race winner and factory 999RS beater with beautiful Andra Cobb featured in the 2006 Fast Dates World Superbike Calendar - http://www.FastDates.com/COLLECTORS.HTM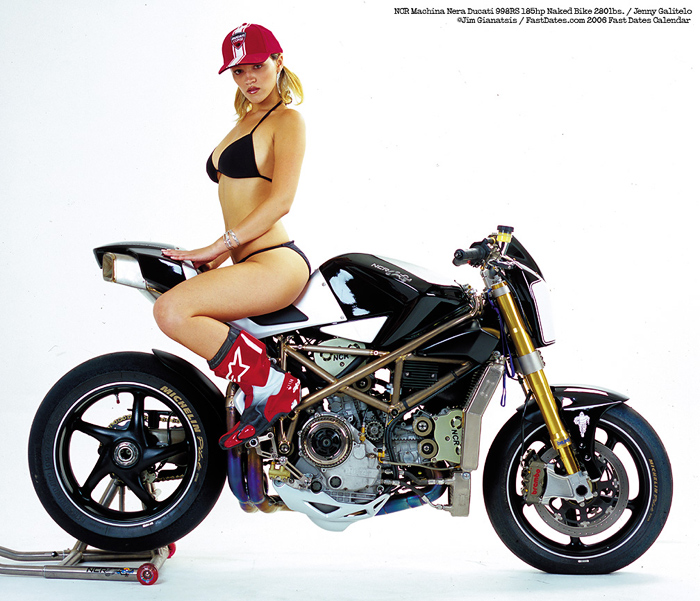 The NCR Machine Nera featured in the 1976 Fast Dates Calendar.
Other special edition bikes NCR introduced receptly include the Machina Nera - a Titanium framed Testastretta powered naked Superbike, the Mike Hailwood and Cook Neilson Replicas, and the Desmosedici powered D16 NCR naked MotoGP bike. In the works for introduction this fall is the new NCR M4 which is a modular designed Monster Evo powered bike that can be built in different configurations, from a naked bike supermoto to a sport racer. The M4 will have the prerequsite NCR Titanium fame, carbon fibre wheels, and should weight in at just 275 lbs fully street legal, priced around $49,000.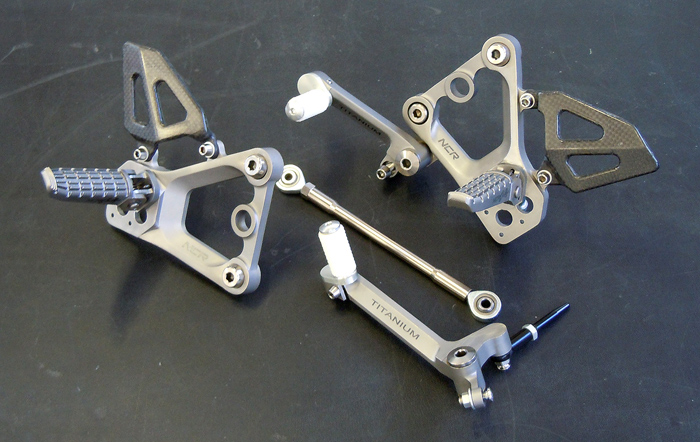 Above: This NCR Titanium Foot Control Kit for the Ducati 848/1098/1198 Superbikes is a work of art. It's fully adjustable for peg and shiftr position. The come with Titanium screws and beautifully molded carbom fibre boot guards. Retail price was a fairly reasonable $1400 so we ordered a pair for our bike. NCR shipped it DHL overnight to my home in Los Angeles to save sales tax. It was waitng for me at my front door before I got home 2 days later.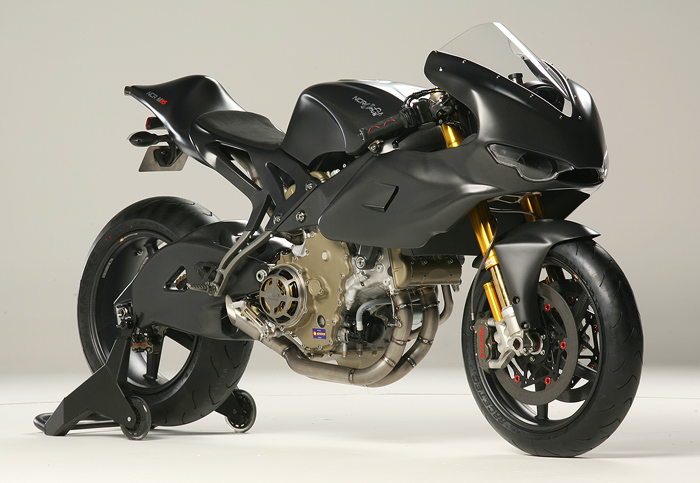 This is the NCR M-16, a high-end naked Streetfigher using Ducati's D-16 990cc V-4 MotoGP derived engine tuned to about 240 hp and weighing just 145 kilos / 319 pounds. And as they say, if you have to ask the price, you probably can't afford it.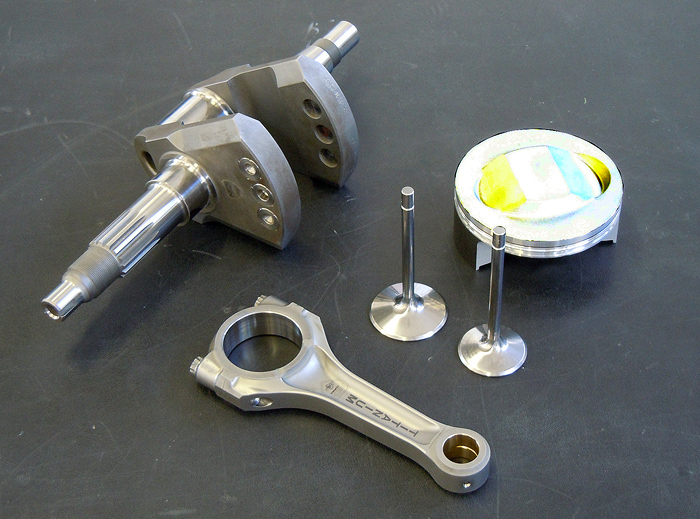 Above: An NCR Titanium Crankshaft, Rod and Valves with a high-compression piston for the Ducati DS V-Twin 2-Valve Aircooled engine. This helps them raise power from a stock 95 hp up to 130 hp, while providing much quicker engine response.


Above: Cook Neilson with Joe and Michele at the Laguna Seca U.S. MotoGP 2009 wih the NCR Mike Hailwood Replica. Photo by Vicki Smith / www.Ducati.net.

Below: The Ducati NA commissioned 2007 Cook Neilson replica NCR 1000 "New Blue" to commerate the 30th anniversary of Cook Neilson's win at the 1977 Daytona 200 race with his highly modified Ducati Supersport 750 enlarged to 900cc.
Below: The NCR Milona 1000NE featured in the 1976 Fast Dates Calendar.
Above: Calisto Poggopolini founder and owner of the company, 80 years old and still going strong, turning out modern Formula 1 and World Superbike engine parts on a traditional hand operted lathe. While just 10 feet away, they're using Computer Rapid Prototyping to build a Ferrari F1 Consumer Show display car (pictured below).
Above: This is a sample of NCR's rapid protyping designing. In front is the computer printer generated composite exhaust pipe for thire NC16. The pipe can then be installed for fit, a welding jig is then built around it, then the final production Titanium Exhaust Systerm (behind it) can be weled up in the jig.
The NCR division of Poggopolini is now run by Joe Ippoliti, suprisingly transplanted from Canada, with a background in electronics. But Joe is a hard core sportbike guy and loves the NCR and Ducati brand relationship and wanted to help it continue and grow. Joe was my tour guide for our visit, first to NCR, where he showed us many of the aftermarket parts they offer for Ducati, and how the parts were developmed. Most parts are drown up on the conputer first, outputed as composites using a Rapid Prototype output machine, then fit checked on the bike or engine and possibly tested before putting them into production. Later Joe took me down the street to visit the factory machine shop at Poggipolini Srl where I meet founder Calisto Poggipolini and his son Michele who is the company's Business Development Manager.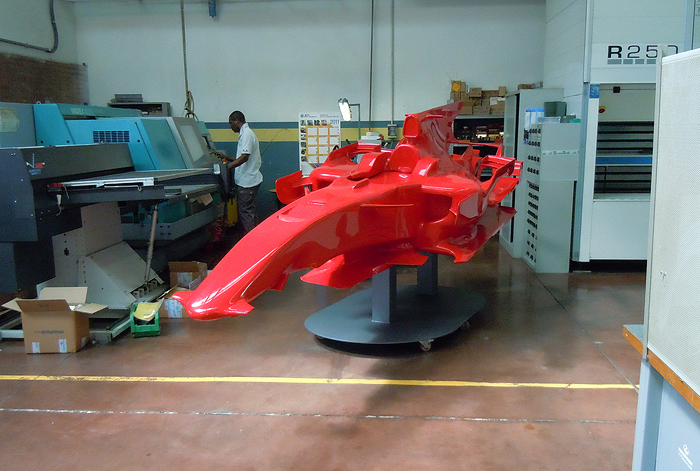 Above: Rapid Prototyping even allows Poggipolini to build a consumer show replioca of the Ferrari F1 racecar.
Poggipolini manufacturers an extensive line of NCR bolt-on performance parts for Ducati and other bike brands which you can find and order on the NCRfactory.com website. But I was also very surprised to learn and see that Poggipolini also manufactures everything from exotic steel landing gear for Airbus commercial air liners, to many of the components for Ferrari's World Championship Formula One race cars. They make some to 1000 part numbers for Ferrari in Titanium including a hand sized Clutch Basket, Pneumatic Valve Parts and Connecting Rods tat take up to 8 hours to machine from Titanium forgings.
In between two big rooms of computer run state of the art Cad-Cam milling machines, we ran into company founder Calisto Poggipolini, just 80 years young, working on an old mechanical hand length, cutting a special Titanium screw for a Ferrari F1 engine. The 6mm screw had a traditional 6mm hex wrench bolt head on one end, then a much smaller 2mm hex wrench hole machined into the threaded end, so it could be adjusted from either end. I asked Calisto if he ever ran the computerized Cad-Cam machines and he said "no" that he learned on a hand controlled mechanical lathe and mill, and that is where he will always stay. That was so cool.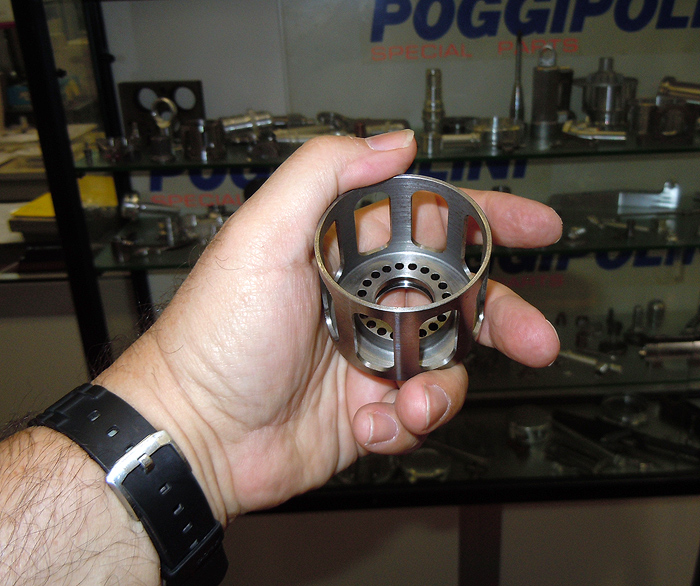 Above: The tiny Titanium clutch basket machined from billet by Poggopolini for a Ferrari Formula One engine.
Below: One of Poggopolin's many Computer aided Milling Machine. Finished parts are checked under the electrical microscope for quality.
To find out more go to:
www.NCRfactory.com • www.Poggipolini.it