2014 / 2015 IMS International Motorcycle Show at Long Beach, California
Photos and Report by Jim Gianatsis - Click on any Picture to Enlarge
IMS Exhibitor List at Long Beach • IMS Show Tour Schedule • Return to Pit Lane News • Pit Board Features

Long Beach, CA - Nov 14-16th th 2014 - As the annual Advanstar produced (IMS) International Motorcycle Show sponsored by Progressive Insurance makes its way across America every winter, with 3-day weekend stops in every major city. It's the perfect time for motorcycle enthusiasts to come in from the cold and see the latest new 2015 bike offerings from all the major motorcycle manufacturers and fill out your Christmas wish list.

With much of the the motorcycle industry and media based in Southern California, we like to think the Los Angeles stop at the Long Beach Convention Center, while 3rd in the stop-over list, is the best IMS weekend to get together with our motor head industry friends, celebrity builders and racers, and even some of the FastDates.com Calendar Kittens working the bike displays for the top manufacturers.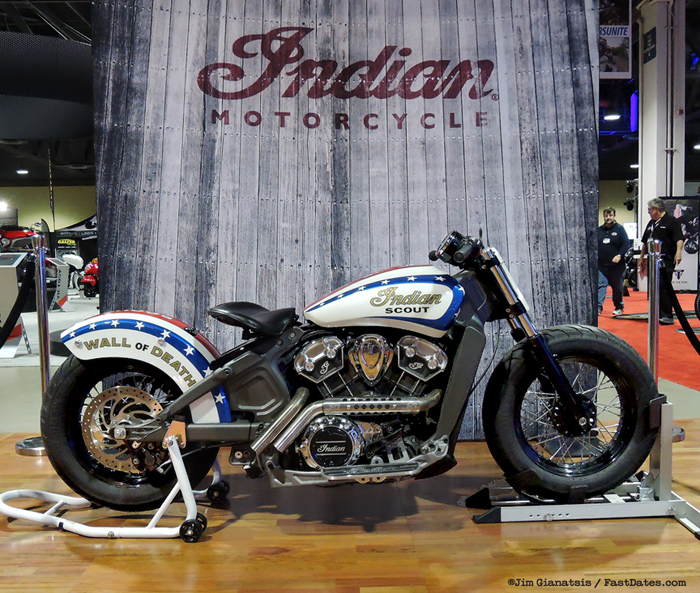 Indian has become the "NEW" motorcyle companyny in America, and certainly the most progressive with its exciting line of well engineered, high performance V-twins. They are pushing their bikes head first into the custom bike market and had these two cusoms on display helped to reflected their early American motorcycle history.


Every manufacturer at Long Beach seemed to have a Roland Sands / RSD customized bike of their brand in their display to help attract visitor attention. It is somewhat disappointing that since the crash of the custom bike market in 2008, no big name custom bike builders are left in Southern California other than Roland Sands. Everyone else has either moved away or gone out of business. It is a shame the manufacturers no longer seek out new builders, or perhaps the corporate powerhouses MAG Group / Performance Machine who helped build RSD, and their distributors Parts Unlimited and Tucker-Rocky are doing a great job making it seem RSD is the only custom bike fabricator left in America. But it is known by insiders that many of RSD's in-house custom builds are soured out to other custom builders.
Indian Motorcyles now offers a full line of Road and Touring bikes that rivals Harley-Davidson, and surpases Harley in design and technical advances.


The Ducati Scrambler is a new, separate motorcycle line from Ducati that will its own own marketing campaign and target audeince. They might appeal to both former dirt bike riders, as well as classic British bike enthusiasts. Either way they are lightweight, comfortable, easy to ride, and easy to customize with their own full line of Scrambler Accessories, plus Apparel.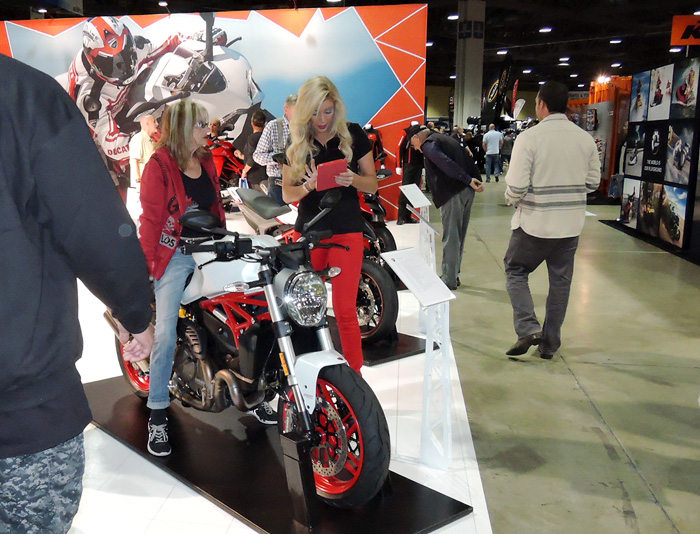 Many of the motorcycle manufacturers like Ducati now utilize attractive spokesmodes to greet show visitors, answer their questions about the bikes, and get their contact informtion to add them to sales contact lists just as lovely Autumn is doing here.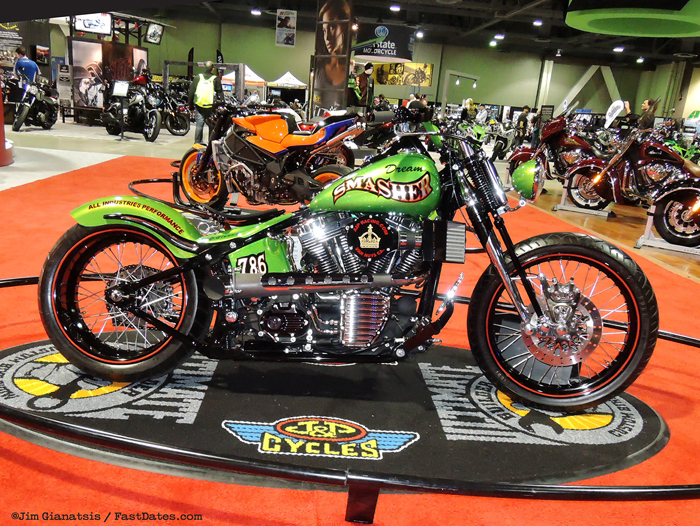 Above and right, some of the cool custom bike entries for the J&P Cycles Ultimate Custom Bike Builder Show on display in the spectator isles. When was the first time you saw a Yamaha R1 Superbike with wire wheels?
The IMS show tour each year across America is the only place you can try on for size, bounce up and down and twist the throttle of every motorcycle available in North America for the coming year with your beautiful girl friend on back.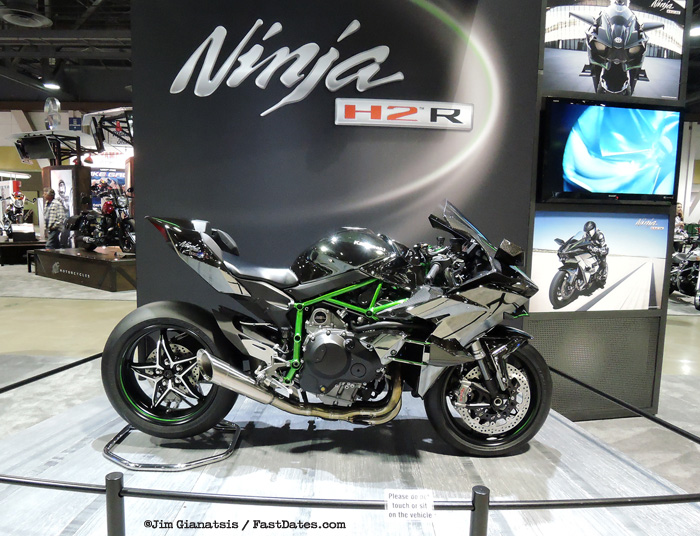 Kawasaki USA made its North America premier of the new supercharged H2 Sportbike and H2R Track Bike at Long Beach, after making its world debut 2 weeks ago at EICMA in Italy. American pricing is $30,000 for the 200hp+ streetbike, and $50,000 for the 300hp track bike. Both models are Special Order Only, and you'll need to get your order in at a Kawasaki dealer no later than December 22nd 2014 for the 2015 production run.
The H2 / H2R Kawasaki super sportbike features a trellis tube fame like a Ducati with the engine hanging below and serving as a partial stressed member. The supercharger is built into the top of the engine case, which stuffs air through the Red Hose, into the pressurized aluminum airbox atop the engine and chassis. All this does add a lot of weight, making the H2 / H2R about 100lbs heavier than a normally aspirated 1000cc superbike.

Kawasaki now copies Ducati, MV Agusta and BMW with its own single sided swingarm on the H2s.


The KTM Display featured their big 1290 Super Duke and baby 690 Duke naked V-twin sportbikes, both of which are a blast to ride on twisty roads.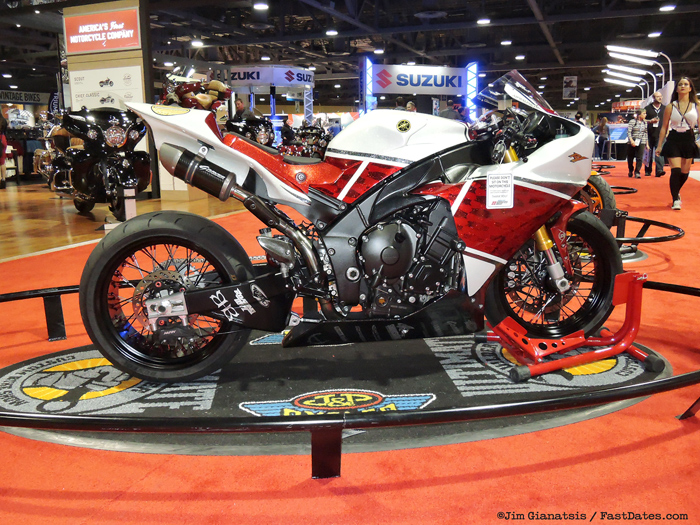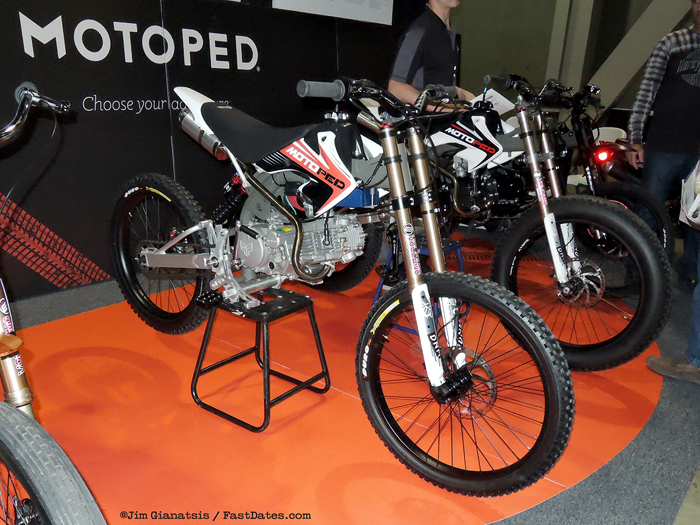 One of the neatest "bikes" at the Long Beach Show were these hi-tech mopeds from MotoPed.com. They feature the classic a Honda 50 replica motor in a modern fully-suspended chassis that could be described as a mid-way cross between a mountain bike and a motocross bike. Because the engine is just 5hp, these are classified by the DMV as motorized bicycles, and as such you do not need to register them or hold a motorcycle drivers license.The bikes looked incredible, and the price was even more amazing at just $2,900 for the model with Pedal & Kick Starting. Or you can buy and optional Foot peg Kit that replaces the Pedal Start for $200 additional. The regular model employs the skinnier Mountain Bike Tires. The bike with the Balloon Tires is a prototype and may be available in the near future with the modification to heavier strength wire spoke wheels.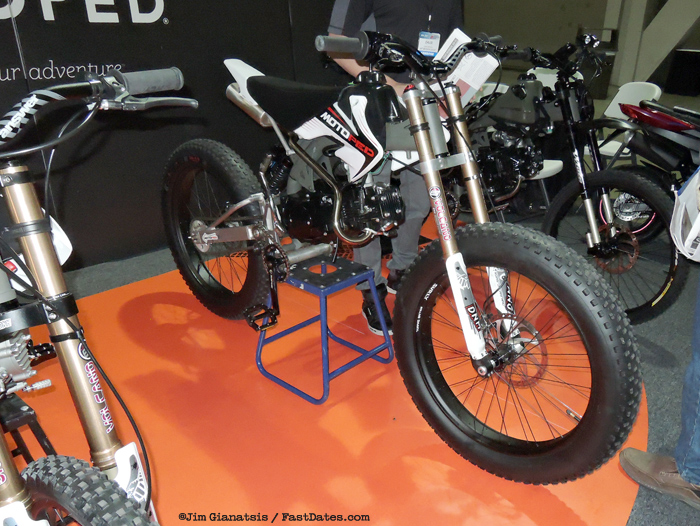 The entire MotoPed looks very well built for such an affordable price, and must be a helleva lot of fun to ride! There's attractive styling, a steel backbone frame with aluminum rear suspension and sub frame.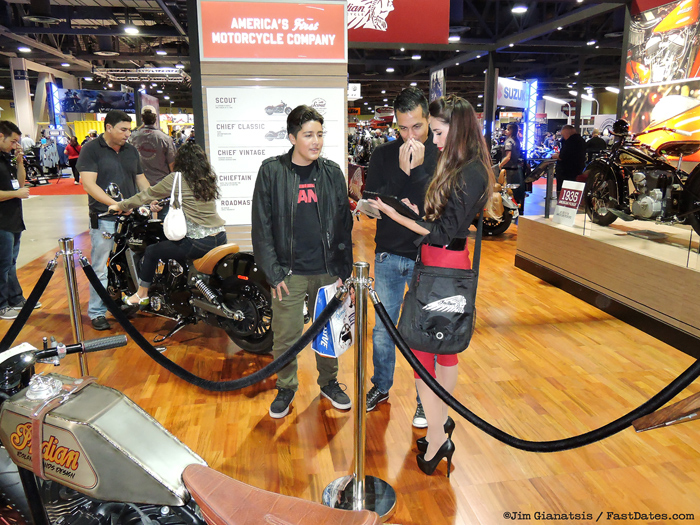 Attractive spokesmodes show visitors, answer their questions about the bikes, and get their contact information to add them to sales contact lists.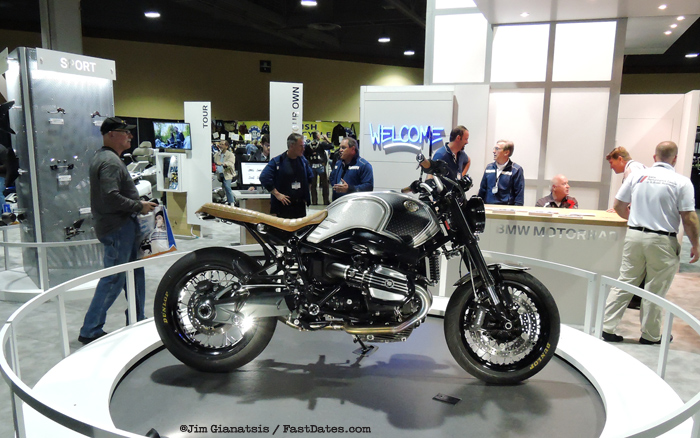 BMW had a mildly RSD customized T-90 on display. The new minimalistic Boxer is offered as an open pallet for customizing by owners, with BMW also offering a full line of BMW custom and accessory parts.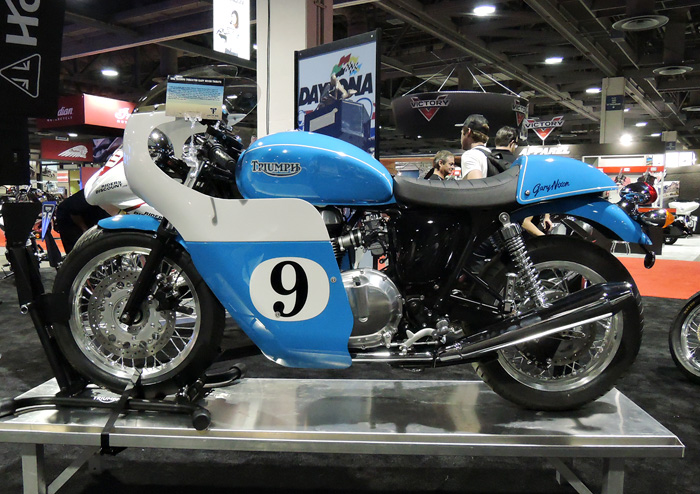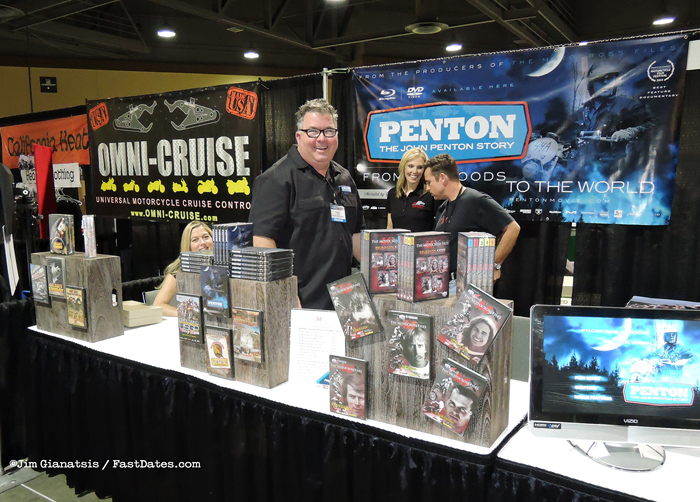 Our good buddy Todd Huffman / Pipeline Media of "The Motocross Files" fame was at IMS Long Beach to promote and sells his classic motocross videos and movies including his latest - the John Penton Story. You can review and purchase his videos at - http://store.pdmtv.com
IMS Exhibitor List at Long Beach • IMS Show Tour Schedules

Return to Pit Lane News • Pit Board Features
J&P Cycles Ultimate Custom Bike Show
Each stop of the IMS show tour across America features entries in the spectator isles from top local custom bike builders as part of the J&P Cycles Ultimate Custom Bike Show. The Long Beach Show in particular featured many of our on LA Calendar Motorcycle Show contest winners which went on to be featured in the FastDates.com Calendars and many motorcycle magazines.
Advanstar, producers of the IMS Shows actually contacted me 6 years earlier when their attendance numbers were dropping off because their shows had become stale, under the pretense to purchase / partner with me and my LA Calendar Motorcycle Show. The plan was to bring all the successful elements of the Calendar Show - our Calendar Bike Building Championship, Bike Builder Seminars, Calendar Girl Music and Calendar Kittens to the IMS shows. But once I provided with all the entertainment and production details of the Calendar Show, they gave us an insulting low-bal buy out option and copied all the Calendar Show's popular features. Now the IMS shows all feature a custom bike contest display, live music entertainment (including a girl fronted rock band at Long beach this year), and IMS spokes models at the event entrances, and of course all the bike manufacturer's spokesmodels featured throughout the IMS shows.
Above: Imagine Vehicles international took Best of Show at the 2014 LA Calendar Motorcycle Show with this Honda CBX power Cafe racer with a single sided swingarm. The bike wad been crashed 10 days before Long beach, so the build team had to rebuild and then repainted the bike in all new colors.
A Roland Sands custom, or great way to turn your crashed sportbike into a naked cafe racer.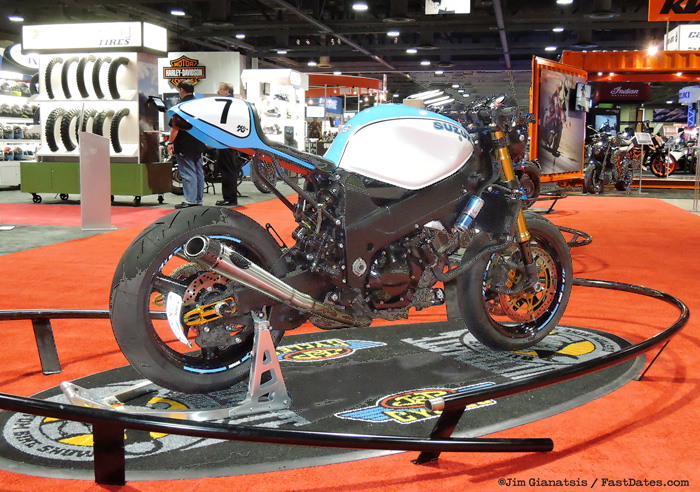 This awesome custom desert racer with Ohlins suspension is powered by a Harley-Davidson Sportster! sortof like hanging a heavy anvil around the neck of an olympic swimmer? Below: A Stupid Fast Supercharged Big Twin.