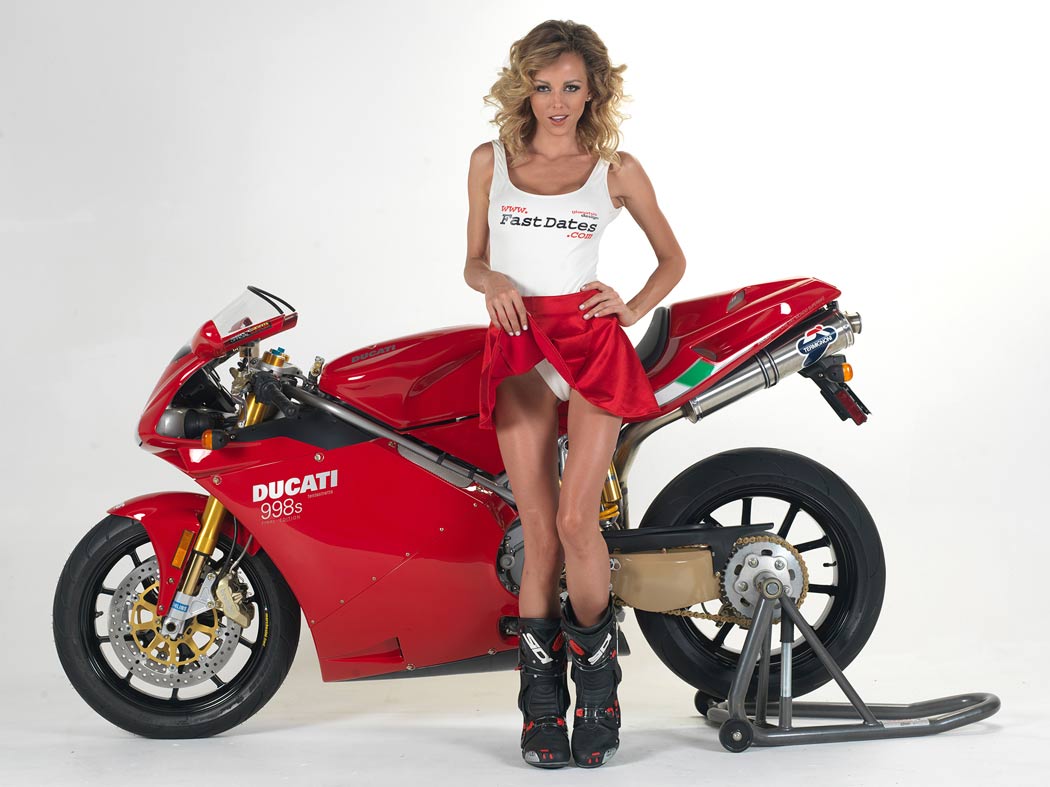 So inviting, model Lindsay Hancock with my Ducati 998S / 999R is featured in the 2016 Fast Dates World Superbike Calendar.
Ducati 2004 Final Edition 998S with 999R Engine & Corse Modifications
The Ultimate Street Legal 998 S/R Superbike
Story and photography by owner Jim Gianatsis


I had always ridden, owned and raced Japanese Superbikes up until one spring day in 1993 when my good buddy Scott Reif, who work at Honda R&D of America designing new bikes, brought one of the first new 2nd Generation Ducati 916 Superbikes with the buy fir comparison testing, on one of our regular Sunday morning rides. Scott let me ride the bike on our twisty canyon roads, and the first corner I came to the bike seem to dive into the corner without any input and tracked its way through the turn and powered out our like it was on rails. And that Ducati V-Twin punch was just icing on the cake. it was far and away the best sportbike I had ever ridden. I had to own one.

That opportunity came a just 6 month later when an attorney friend who had also bought one of the first 916s, now wanted to sell a quite a discount. It turns out back in those days Ducati didn't Loc-Tite any parts on the production line, and on his bike the rear wheel hub nuts backed out as we was riding on the freeway to a track day at Button Willow Raceway, causing the entire rear wheel assembly to fall off on the freeway and throw him to the ground. You don't want to do that to an attorney. Short story, I got to buy from him a like-new fully rebuilt bike by Ducati at a great price. And coincidently, soon after that all Ducati's motorcycles have come with every nut and bolt Loc-Titde on the production line with a painted inspection mark.

My first 916 soon received a lot of performance modifications including an Ohlins rear shock, a Ferracci 926cc Hi-Compression Big Bore Kit, a Jerry Branch ported head, Corse Camshaft, Full Termignoni Race Exhaust and Ferracci ECU computer re-map, ISR 6-piston front brakes and Dymag Magnesium race wheels. My 926cc Special was pretty much the ultimate 2nd Generation Ducati Superbike until the release some 9 years later of the new 2002 year 996R.

Still a 2nd generation Massimo Tamburini design, the 996R featured the all-new Testastretta deep sump sand cast engine, Titanium Valves and Rods, to homologate it for World Superbike, with the new deep sump engine curing the oil starvation and breaking engine cases on the factory Corse race bikes which until then were running the biggest possible displacement 955cc engines. The power increase on the new 996R motor was nearly 40 horsepower more than the previous 916, with an equally impressive low end torque increase. The bore x stroke was 110 x 63.5 mm with a displacement of 998cc, but the model was named a 996R in order to tie-in to the marketing of the more pedestrian 996cc street Superbikes that year. The 996R came without street lighting equipment installed because it was a pure racebike and not street legal, but the stock lights and exhaust system were including in the shopping crate.




In 2003 the regular 996 street Superbikes would be renamed 998 and would also receive the new Testastretta engine, now with volume production die cast engine cases and a slightly shorter stroke stroke of 104 x 58.8 to allow it to rev higher and make more peak power on the Corse race bikes. There would also be in 1993 a 998R with Titanium Valves and Rods for WSBK homologation. For comparison purposes the 996R and 998R both have the same 998cc displacement, but the 996R has a slightly torquer longer stroke powerband that didn't need to be revved as high, making it nicer street ridden canyon racer.

Year 2004 would see the introduction of the new 3rd Generation Ducati 999 Superbike with its all new Pierre Terblanche designed body and chassis. The new longer and bigger 999 was certainly more comfortable to ride than the previous 2nd Generation 916-998s, but the styling didn't prove to be as popular and it didn't seem to handle as handle as well, as evidence by the factory Ducati Corse team struggling with the bike in the season's World Superbike rounds. But the new 3rd Generation 999 came with an even more potent 998 Testastretta engine which helped compensate for any handling deficiencies, at least until the Monza World Superbike that June. Continued below...
| | | |
| --- | --- | --- |
| The 2nd Generation Ducati 916-998 Superbike is the most iconic sportbike design ever created. | NCR Billet Titanium Foot Controls | Ducati Corse Magnesium Swingarm is about 1-inch longer than stock and 4 pounds lighter, and comes with special shock linkage. A 520 chain and sprocket kit removes 2 pounds of reciprocating and unsprung weight compared to he stock 530 chain set . |
| | | |
| | | |
| | | |
| | | |
The factory Ducati Corse Superbike team had been struggling to learn how to set up the new 3rd Generation 999RS factory race bikes that first year. Privateer Frankie Chili however, was a year older 998F03 bike prepared by the legendary Bologna tuning shop NCR, which was running one of the new 999RS motors. With the old 998 chassis running the new 999R engine, Frankie had the perfect combination of Ducati handling and power, and would trounce the factory 999RS bikes to win Race Two out right at Monza that year.

Little noticed during year 2004, what with all the fan fare of Ducati introducing the new 999 model, Ducati started off the production year by also releasing a numbered 2nd Generation 998S Final Edition model. Fast forward 11 years later and there I am browsing the Ducati motorcycle ads on E-Bay where I see what appears to be a brand new 998S Final Edition with the much coveted Corse extended length lightweight Magnesium Swingarm. This was the swingarm the factory team used from the 1999 season as it was said the added 1-2 inches of wheelbase improvded handling, an this dimension would later be adaped in the design if the new 3nd Generation 999.

I dove further into the E-bay listing to sew the bike actually was brand-new, never having been ridden, with just 2 miles of dyno break-in running on the Speedometer. And that it had been heavily modified within a year of purchase with a 999R crate engine, Marchesini Magnesium race wheels, and a full Termignoni Ti Racing Exhaust System with computer re map, 520 Chain and Sprocket kit. The bike had been built and tuned at Ducati AMS / Advanced Motorsports in Dallas, TX.

On contacting the seller, I learned his name was Michael Snoderly from Atlanta Georgia, and that he had some $40,000 invested in purchasing and building the bike, plus a $5,000 6-year storage bill from AMS!. Mike told me that once the bike was complete, his US government job had transferred him to Europe, and he had to put both this modified 998S and a new Ducati Desmosedici RR into storage without having ridden either. When he finally returned back to the USA in 2012 the government Budget Sequester of 2013 left him without a job.

Soon Michael had to sell off his brand new, never have been ridden Ducati collection.

I made Mike a stupid lowball offer for his beautiful new super trick 998S Limited Edition and he accepted. A shipping company picked the bike up at Mike's house and delivered it to my local dealer Pro Italia, Glendale, CA, where it was checked out, including a good clean out of the fuel system, and installation of fresh new Pirelli tires.

I also added those beautiful NCR billet Titanium Adjustable and Folding Foot Controls which are the same that as Chili used on his NCR race bike back in 2004.

This new 998S is so beautiful, at first I didn't want to even ride it, but what good is a Ducati if it isn't ridden? Particularly, possibly the world's finest 2nd Generation. And if I keep the miles low, it should not devalue it any.




So far I've ridden it twice on the twisty and high speed canyon roads of the Santa Monica Mountains outside Los Angles and i have to say, it is the best 2nd Generation Ducati Superbike I've every ridden. The handling, particularly with the longer swingarm, is simply incredible, and the 999R engine is incredible with its broad torque and super powerful power band right off idle. It is a nicer bike overall in handling than the bigger feeling 3rd and 4th Generation Ducati Superbikes.

Only the new 5th Generation Panigale 1199 handles better. But the Testastretta 999R motor with its awesome power band, is a far more enjoyable engine to ride on the street and canyons than the new higher revving short stroke Superquadro found in the new 1199.

If you are a serious Ducati Superbike enthusiast, you need to have a 998S in your stable. In my opinion the 2nd Generation Ducati Superbike with the 998 Testastretta deep sump engine is arguably the best Superbike of all time. And with a total of 6 World Superbike Crowns to its credkit in the hands of Carl Fogary, Toy Corser and Troy Bayliss, its hard to argue with a record like that. - Jim Gianatsis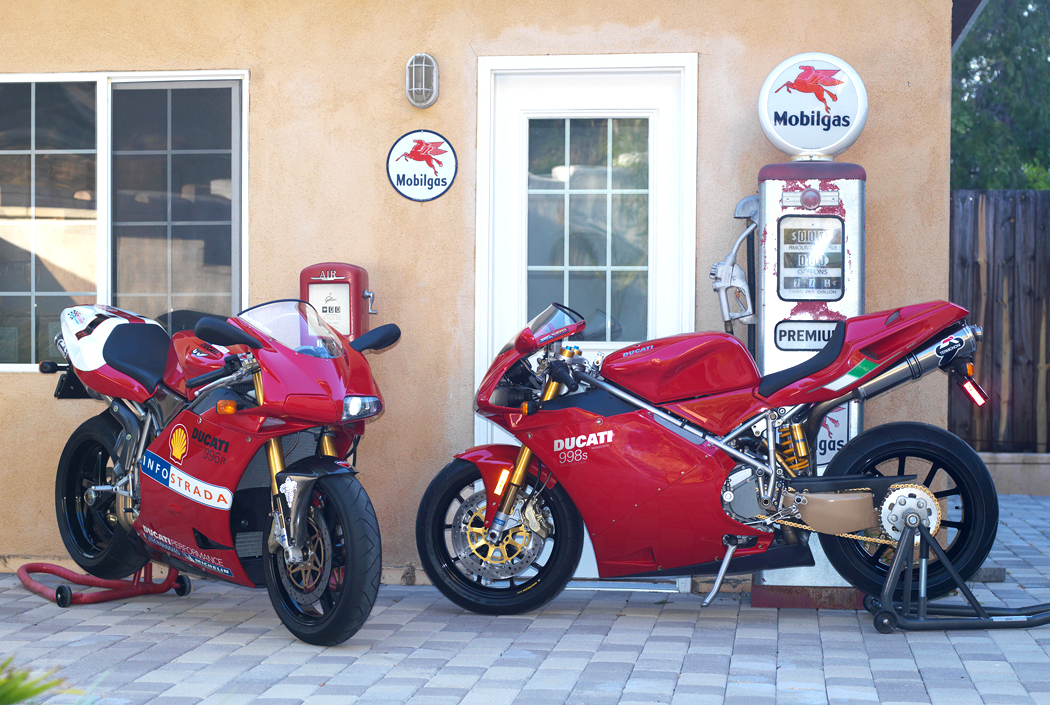 Above: My 2002 996R (on the left) with my 2004 Ducati Final Edition 998S / 999R Frankie Chii NCR Replica (on the right) - the two best of Ducati's legendary 2nd Generation Superbikes.

Below: SBK FastDates.com Calendar Kitten Andra Cobb served as unbrella grid girl for Pier-Francisco Chili at the 2004 Laguna Seca World Superbike race that year. Frankie and this year older, better handling NCR PSG-1 Ducati 998F03 gave fits to the new 3rd Generatioin factory Ducati 999R04 team bikes and riders throughtout the 2004 SBK Champioship.


Return to Pit Board Features • Calendar Bike Garage Index