Above, the 2015-16 Panigale 1198cc V2R was Ducati's most powerful twin cylinder Superbike ever. It was retired from World SBK in 2018 in V2RS form as still a very competitive race winner under WSBK restrictions.
_________________________________________


Panigale 1198cc V2 Performance
          You can see (above) in this rear wheel dyno chart (rear wheel dynos shows about 15% less than advertised crankshaft horsepower because of drivetrain losses) the base Panigale V2 1199 with an Akrapovic Race Exhaust makes massive amounts of torque from 3,000 rpm straight across to 7000 rpm. For street riding and canyon bashing the flat torque lets you short short shift and rocket out of corners all day long without screaming the engine. On the race track you'll move up the RPM range from 6-11,000 rpm for full power, but if you happen to fall out off the track powerband there's no real delay in getting back into the power. The V2R is even more potent than this. The BLACK lines are with stock engine TORQUE and POWER maping,g and the RED lines with a remap for even better performance.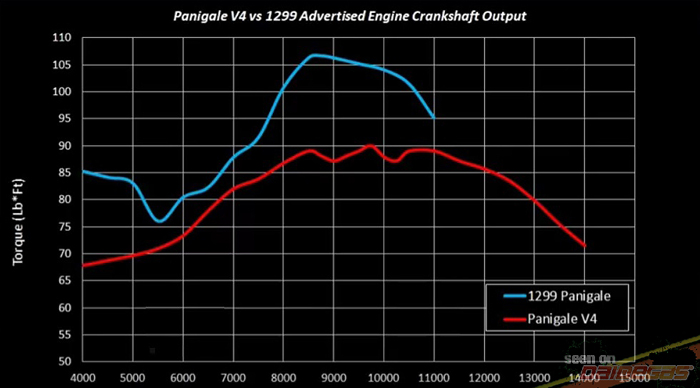 Panigale V2 Superquadro versus V4 Stradale Power and Torque
          The only problem with Ducati, or any manufacturer's 4-cylinder 1000cc Superbikes are they have to turn a lot of RPMs to get usable power and torque. Power that doesn't really start until around 6,000rpm for the street, and 8,000rpm for the track. This is why Ducati made the Base and S model Panigale V4 with a "cheater" larger displacement 1103cc engine, to try and make up for some of the lost bottom-end power compared to the Ducati V-twin that their enthusiasts love. But even with 10% more displacement the 1100 base V4 motors are gutless below 5,000rpm when they just begin to match the power and torque of the old 999 Gen3 V2 Superbike of 2003. Hardly an endorsement for traditional Ducati low end power. And the higher tuned 998cc V4R isn't any better.

          In these two charts you can see the base V2 1299 Panigale compared to the base V4 1098cc Panigale . The hotter tune V2R 1199 (not shown here) probably matches the 1299 for much of these charts, but the 4VR 's rev limit is 1,000rpm higher at 12,000rpm and makes its peak 224hp at 11,000rpm.

          Unfortunately I wasn't able to find any direct comparison dyno charts for the 11199cc V2R versus the 998cc V4R, but you can see the V-twin always makes significantly more torque that the V4,and power is not lacking with the V2 having a much easier easier to ride power band in the lower RPM ranges. As they say, there's no substitution for Cubic Inches, or Cubic CCs!

Panigale 998cc V4R versus 1103cc V4
          These two charts (above and below) show the 998cc V4R has more peak horsepower 13,000rpm than the the 1103 cc V4, but suffers significantly in torque because of its smaller displacement to homologate it for Superbike racing. For street riding and club racing the larger displacement, less expensive base V4 motor is the way to go.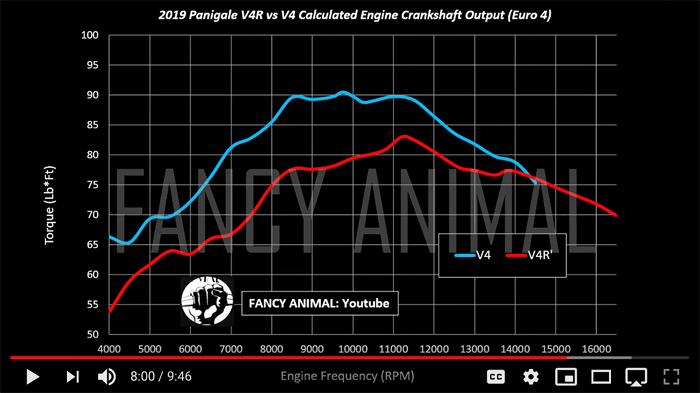 Ducati V4R 1000cc and V4 1100cc Main Technical Data:
• 998 cm³ 4-cylinder 90-degree V     (Standard 1103 cm³ on the standard models)
• Bore x stroke 81 x 48.4 mm      (Standard models Bore x stroke 81 x 53.5 mm)
• Compression ratio 14:1
• Maximum power 162 kW (221 hp) @ 15,250 rpm      (exceeds 210 hp at 13,000 rpm on the Standard models)
• Maximum torque exceeds 112 Nm (83 lb-ft) @ 11,500 rpm     (Standard Models 120 Nm from 8,750 to 12,250 rpm
• Counter-rotating crankshaft
• Twin Pulse firing sequence, crank pins offset at 70°
• Euro 4 emissions
• Desmodromic part chain, part gear timing with dual overhead camshaft, 4 valves per cylinder
• Wet multiplate anti-patter servo clutch
• Semi-dry sump lubrication with four oil pumps: 1 delivery and 3 return
• Fuelling with four oval throttle bodies (52 mm diameter equivalent) and variable-height intake horns
• 6-speed gearbox with DQS up/down system
• 24,000 km "Desmo-service" maintenance interval (15,000 miles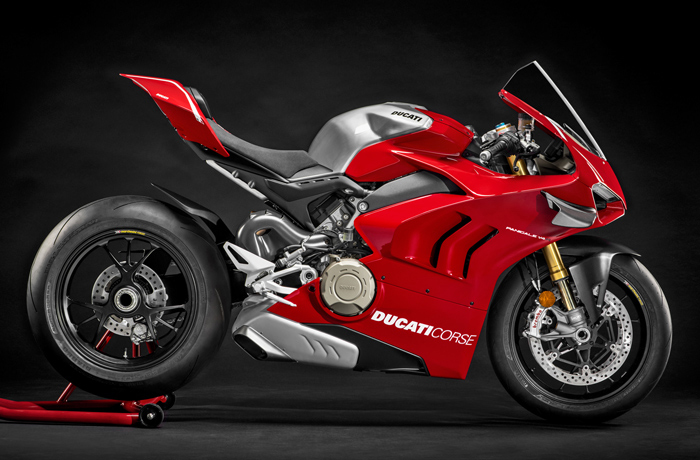 Above, the 2019-20 Panigale 998cc V4R Is Ducati's most powerful production Superbike ever. In V4RS race form (shown below)
it has the potential to make as much power as its 280hp MotoGP brother, but under WSBK restrictions it will always be held back to 220--230hp, the same output as its previous V2RS cousin, but without the glorious larger displacement big twin's torque and broad usable powerband.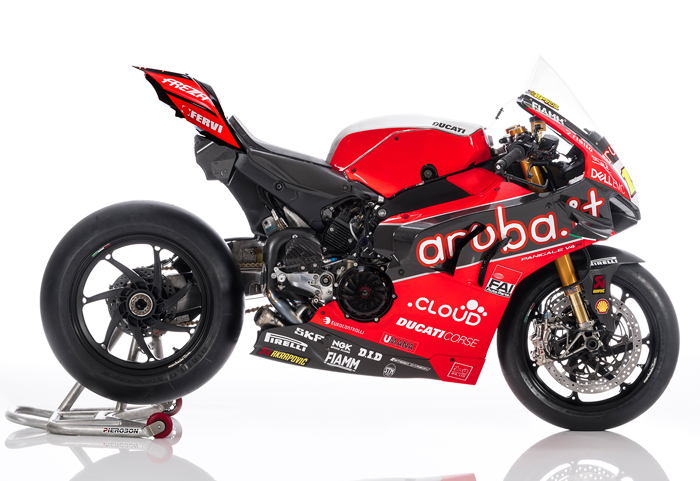 ________________________________

On a fast, flowing race track where you can keep the V4 and V4R on the boil above 7,000rpm the Panigale V4s are rocket ships, incredibly smooth and powerful. No other bike can touch them. When I first rode the V4S at the Misano Grand Prix Circuit during World Ducati week I was blown away how easy and comfortable the bike was to ride at racing speed. Everything was perfect from the power, handling and braking, to having complete confidence in a brand new model bike I had never ridden before. On the track the bike was faultless.

Then in the spring of 2019 I received my new V4R with the Titanium Akrapovic race system installed and start dialing it in for the canyons in the Santa Monica Mountains where I love to ride. I immediately noticed how taller and physically larger the V4R is.
It's 32ins higher at the seat compared to the V2R at 31.5ins, and nearly 4 inches wider at the back of the gas tank 11ins for the V4 and just 7ins wide for V2R. And with two more cylinders it's a bigger wider, taller engine in a bulky bike and I have a hard time getting on and off it, even using the kickstand, let alone trying to touch the ground when seated with my 5'8 height and 28-inch in-seam. The wider seat reduces my in-seam stretch to the ground and makes the bike feel even taller.
And you can feel the increased weight and bulk of the V4R which weighs in wet with a dry fuel tank at 410lbs, a full 24 pounds heavier than my V2R15 at 386lbs. Both bikes are modified similarily with the full Akrapovic Titanium Racing Exhaust, lightweight 520 Aluminum Sprocket & Chain Kit, no handlebar end weights, and billet gas tank caps. In SBK World Superbike where they have an FIM 364 lb. mimimum weight limit, the race bikes are easily built to be 40-50 pounds ligher.

The big V4R needs to be set up and guided for every corner (in the canyons and moutina roads where I ride), and can't really be moved around mid-corner. The stability I loved with theV4 bike on the 40-60 foot wide race track at Misano, was now providing too much of a dentrament on the street. I was finding myself quite nervous riding the bike on tight roads and trying to keep the engine revving high enough to pull myself through the corners….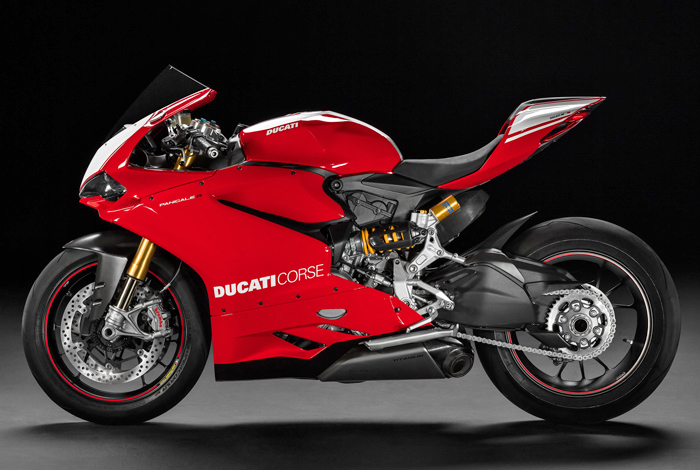 When Ducati's 5th Generation Superbike the Panigale V2 Superquadro (above) wasfirst introduced in 2012 it was a landmark design for Ducati Superbikes, featuring a much hyped easy access side mounted rear shock for the single sided swingam, with an easily adjusted variable / straight ratio shock linkage for street / track use. No other manufacturers' Superbike had this feature.

With Ducati's 6th Generation Superbike the Panigale V4 (below) the wider four cylinder engine forced Ducati to move the rear shock assembly back to the normal position in the center of the bike behind the engine, and the shock linkage ratio is no longer adjustable. The Panigale V4 Stradal ewith two extra cylindersbecaame 4-inches wider and 24 pounds heavier than the Panigale V2 Superquadro, and with an entirely different powerbad. If you loved the old V-twin, this won't make you happy, but if you're coming from an in-line four, you'll love the the improved power of the twin pulse MotoGP derived backward rotating engine.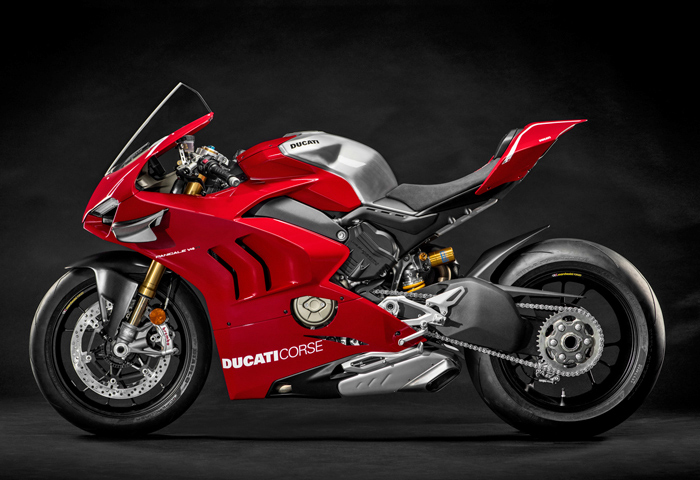 The V2R on the other hand….. It's a BIGGER displacement 1198cc engine with tons more V-twin torque down low, making it easier to ride, pulling harder out of corners with a nasty snarl from a wack on the throttle. It's light and nimble enough to throw the bike into turns,and catch and make line changes instantly with full confidence. It's a bike you feel a part, an extension of your body, that quickly responding to your input. The Panigake V2R (and the other V2s) are like a scalded cat Ferrari 458. Whereas the Panigale V4 which feels like a charging Rhino 800hp Corvette Z06 that needs an open line of sight before the throttle can be pegged.
Important 2018-2019 Panigale V4R Rear Spring Change
          There is an immediate need to change to a softer rear spring on the 2018-2019 Panigale V4s, and in particular the V4R, as all th V4S and V4R models come over sprung (too stiff) with the Ohlins #21141-36-100 spring.
          I've found every Ducati Superbike I've ever purchased from the Gen One 888 to the Gen Six V4 comes spec'd from Ducati with an overly stiff spring to accomodate carrying an added passenger (180lbs?) on the bike. Even on the R model which only has a solo seat, you get the same stiff spring spec'd for a passenger carryingon the V4 /V4S. For the race track this stiffer spring might be fine because you don't need the rear suspension's full travel on a smooth road course and this makes the bike more stable. But still, be sure to dial back the spring's preload to give you some ride-height sag / compression - about 2ins. 
          But for solo street riding and canyon racing, even for me weighing 225lbs plus 35 pounds of riding gear, the stock V4R spring at 105Nm / 550lbs just too stiff. Your Ducati dealer won't stock a lighter spring, but he or you can order it from your Ohlins Distributor, cost USD $200. Ohlins only offers a 1-step lighter spring for the Ducati TTX Shock which is the 100Nm /525lb spring Ohlins Part # 21141-34-100. With the softer rear spring, in my following rides on the bike, it rode so much better over the bumps and felt / handled so much better on the street and pushing it hard in the canyons. And be sure to soften up the spring preload in your front forks to match. I also always drop the front Ohlins forks in the triple clamps calmps by 20mm from the fork tupe top to equal the reduced rife height at the rear, and to help quicken up the steering.

Wrapping it Up
          If you're a physically big guy wanting a comfortable street profiler and track day weapon. The V4R is your hot ticket. But if you are smaller in stature or want a light, nimble, fast-as-hell torque monster with a real snarling personality that is just as quick as the V4R, the V2R is my favorite Ducati Superbike ever. It surpasses the iconic 2nd generation Ducati 916/998 Superbike  in every category from beauty, to handling, power, comfort and zen. It may not have ever won a World Superbike Championship, but that wasn't its fault. Carl Fogarty, Troy Bayliss and Carlos Checa just retired too early.  
          The 2012-2017 Ducati Panigale V2 and V2R are now instant classics. It's a shame they are now out of production, but if you want a new Ducati V2 Superbike, Ducati now offers the 959cc V2 Panigale which you could call the modern day reincarnation of the iconic 916. Don't let these now affordable new and used V2 Ducati Superbikes pass you by.

Ducati World Premier 2020 Model Update 10/23/2019
          Nice to see that in the Ducati 2020 New Model Presentation that they followed up with 2 of my suggestions / recommendations in this FastDates.com Panigale V2 vs V4 Superbike Review:

1). They have brought back the lightweight Panigale V2 Superbike as a more affordable, rider enjoyabe alternative to the bigger Panigale V4. Unfortunatley it only comes in the smaller 959cc displacement of the 150hp 2019 Panigale V2 Corse. I suspect they did not want to also offer it in the previous larger 1199/1299cc displacement size to compete directly with their top of the line V4 Superbikes. So if you want more displacement and power, you should seriously consider picking up a nice used example.

2). They have gone to a softer rate rear shock spring on the Paniagle V4, Ohlins #21141-34-100, a problem I pointed out in my reviews of the bike, and a modification which I had made to my own V4R a few months ago back.

                                                                            Ducati Panigale V2R Superbike Review

                                                             2019 Panigale V4 and V4R Specification Sheet PDF
                                        Return to: Ducati Index • New Bike Index • Pit Lane News • Calendar Bike Garage