Roberta Marchiori

Roberta Marchiori is a beautiful young fashion model living and working in Venice, Italy. Our Italian associate Calendar photographer Simon de Raineri discovered her on Instagram, showed us her picture. We fell in love with her firery red hair, beautiful face and tall slim figure, and we told him we definetly wanted to book and have him shoot Roberta for the FastDates.com Calendars.

Because this shoot would be in Italy and for the
2024 Garage Girls Calendar, we asked photogrpaher Simone if he might possibly find an old Fiat 500 car for Roberta to shoot with. Simone went one step further and found an old, but newly restored Red Fiat 500 from the 1960s. Perfect!

You'll find more of Simone's pictures with Roberta and the Fiat 500 where she is profiled in the FAST 2024 Calendar Yearbook available as a flip-book in Members Corner and tn the Calendar Sales pages to order as a hard cover printed Coffee table book.

We also asked Simon to shoot with Roberta again for the 2025 Calendars, and we are looking forward to those pictures as well!

Roberta Marchiori
Lives: Venice Italy
Height: 5'8" (or 172 cm)
Weight: 115 lbs (or 52 kg)
Measurements: 32-25-35
Bra/cup size: 32C

The new 2024 and 2025 Garage Girls Calendars
feature beautiful Karina Vélez.

INSTAGRAM: @roberta.marchiori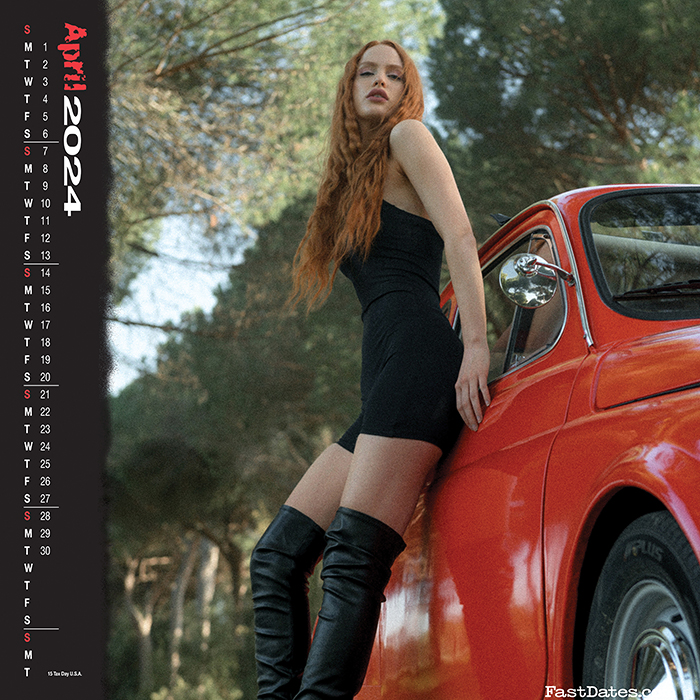 Roberta is featured in the 2024 Gasoline Girls Calendar with a classic Fiat 500.
Karina, with her beautiful face and perfect body, can stop traffic at the beach, on the tennis court, or in Times Square, New York.
Return to Meet the Models • Members Corner Pictorials
See more of the Calendar Kittens in Members Corner...
Return to Members Corner Index
Return to Meet the Models • Members Corner Pictorials



Italian models Elena Beezley and Roberta Maechiori
are featured in the
FAST 2024 Caendar Yearbook available as a digiatl flip-book in Members Corner, and as a hardcover printed Coffee Table Book on the Calendar Ordering pages.