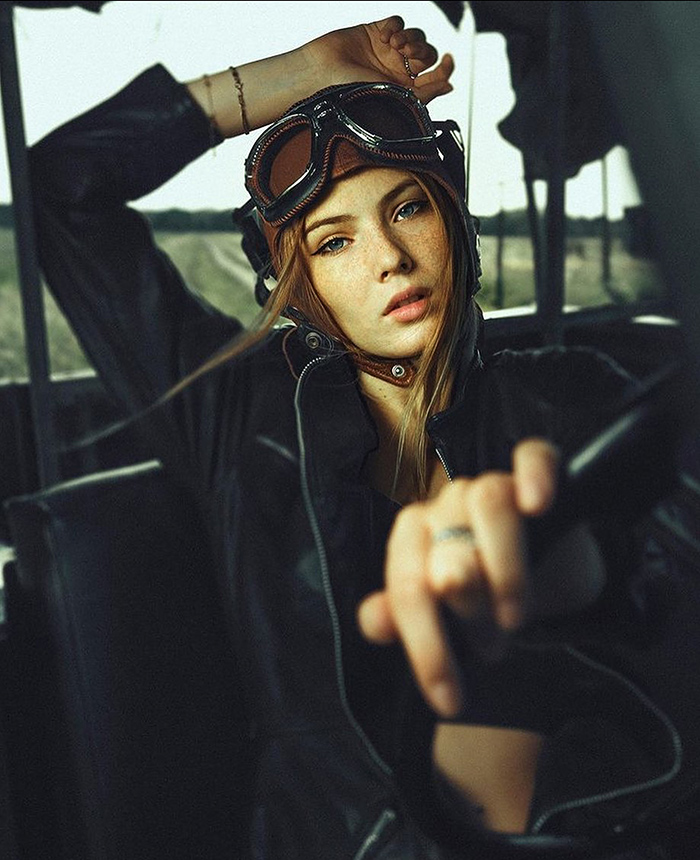 Elena Beezley

When we first saw Elena Beezley she was a pretty freckled face high school girl featued in pictures on our Italian associate Calendar photographer's Simon de Raineri's instagram page. We fell in love with her intese blue eyes and freckles, in two portfolio shoots that Simon did with her at the beach in a bikini with a surfbord, and with his old Land Rover at an off road location. We immediatley contacted Simone to ask if we could feture their photos i the 2023 Gasoline Calendar, with one of the pictures of Elena sitting in the Rover with a leather flying helmet landing her the Calendar cover.

These great photographs of Elena by Simon had a beautiful fashion editorial styule to them, and it began an ongoing relationship with photograper Simone and his beautiful italian models including Elena, which have continued on into the 2024 and 2025 Calendar years.

For the 2024 Garage Girls Calendar we asked Simon to try and photograph Elena with an Italian motor scooter, and he did us one better by findinf a beautiful old restored Lambretta scooter. You'll find this shoot in both the 2024 garage Girls Calendar and on the cover and inside the FAST 2024 Calenar Yearbook.

Elena Beezley
Lives: Piza Italy
Height: 5'7" (or 172 cm)
Weight: 115 lbs (or 52 kg)
Measurements: 32-25-35
Bra/cup size: 32B

The 2023 and 2024 Garage Girls Calendars and FAST Calendar Yearbooks
feature beautiful Elena Beezley

INSTAGRAM: @ele.beezley
Elena is featured in the 2023 Gasoline Girls and 2024 Garage Girls Calendars.
We feel in love with Elena's pretty freckled face and blond red hair.
Return to Meet the Models • Members Corner Pictorials
See more of the Calendar Kittens in Members Corner...
Return to Members Corner Index
Return to Meet the Models • Members Corner Pictorials



Italian models Elena Beezley and Roberta Maechiori
are featured in the
FAST 2024 Caendar Yearbook available as a digiatl flip-book in Members Corner, and as a hardcover printed Coffee Table Book on the Calendar Ordering pages.